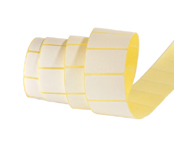 FACE MATERIALS

---
The number of different variations of label materials available for computer imprinting is enormous. There are five (5) materials, however, that are used most often.
Smudgeproof
This material was specially formulated for the computer industry because of its ability to absorb ink quickly when passing through an imprinting device. This feature minimizes smudging and enables the label to be handled and used in a relatively short time after being imprinted.
Matte Litho
This semi-gloss material is used to achieve above-average print quality. Due to the semi-gloss finish, however, the material is not very absorbent and requires longer for the ink to dry. Matte Litho is not as versatile as Smudgeproof, but sometimes performs better in difficult application situations.
Latex-Impregnated
The most flexible computer imprintable material, latex-impregnated paper, will conform to curved and small cylindrical surfaces such as concave shelf ends, test tubes, vials, and roll cores. The material is tough and pliable when compared to standard paper materials.
Vinyl
This plastic material is extremely flexible and moisture-resistant. Vinyl labels that require variable printing are most commonly used on containers, like chemical drums, that are exposed to chemicals or to outdoor conditions.
Thermal Transfer
This label material is made especially for use in variable printers. The thermal transfer printing process is one in which ink is transferred from a ribbon to the label surface by means of heat and light pressure. Thermal transfer material is ideal for applications that require small bar codes, high print quality, or high-density bar codes.